Restless Legs? Get Relief With These 10 Natural Remedies
Are your twitchy legs keeping you up at night? Get them to settle down with these 10 natural home remedies.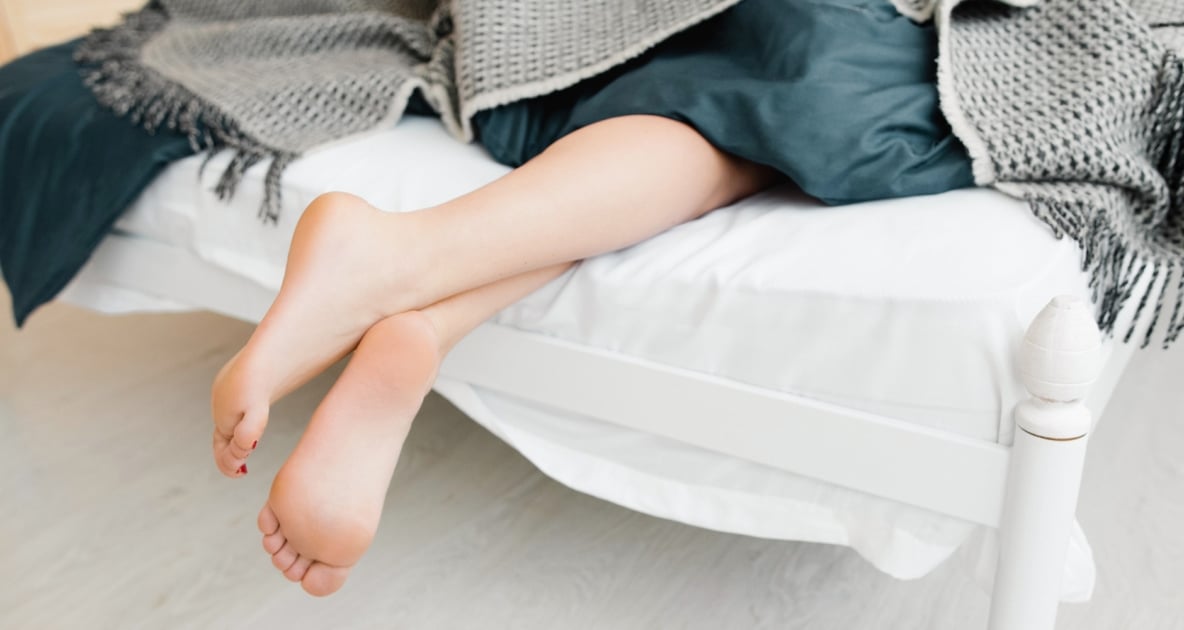 Can't keep your legs still? Do you suffer from the non-stop urge to jiggle, twitch, and move your legs, so much so that it wakes you out of a sound sleep? You most likely have Restless Legs Syndrome (RLS), the most common sleep-related movement disorder, affecting one in ten adults in the U.S.
Also referred to as Willis-Ekbom Disease, RLS is a neurological sensorimotor disorder. The main symptom involves a sudden urge to move the legs when at rest. RLS occurs mostly at night, when sleeping. The sensations vary from tingling, twitching, prickly feeling, or a jerking feeling in one or both legs, which prompts you to move the legs for relief.
Although RLS does not cause major health problems, it may be an indication of an existing or developing health condition. RLS is uncomfortable, and disruptive. So how can you make it stop? These natural remedies can help.
10 Natural Remedies for Restless Legs
Eat well! Ensure that you are eating a healthy, balanced, whole foods diet, rich in calcium, magnesium, and potassium, to avoid the vitamin and mineral deficiencies, and electrolyte imbalances known to bring on restless leg syndrome. Dark green leafy vegetables, bananas, cherries, garlic, nuts, black beans, coconut, olive and avocado oils, wild-caught seafood, and grass-fed beef are highly beneficial food sources to consume. If RLS is an ongoing cause of sleep loss, have your iron and magnesium levels tested.
Magnesium supplements can be taken daily 30 minutes prior to bedtime, to ensure that you are getting adequate intake, and to promote restful sleep. Ask your doctor what is the right dosage for you. You can also try magnesium oil, a go-to natural home remedy for many prone to RLS. You an also try rubbing or spraying magnesium oil into your leg muscles every night. Make your own magnesium oil instructions here.
Alfalfa is a superb supplement that contains all three vital minerals: calcium, magnesium, and potassium in a balanced form, thus promoting proper absorption. Alfalfa helps maintain well-functioning nerves and muscles.
Avoid white sugar, white flour products, high carb meals, fast foods, tobacco, and alcohol — all of which can make RLS symptoms worse. Limit caffeine intake as well.
Hydrate. Try an electrolyte-replenishing drink, like coconut water or organic pickle juice without unhealthy additives. Or squeeze the juice from a fresh slice of any citrus fruit into an 8-ounce glass of quality, filtered water. Add a pinch of Himalayan sea salt. Stir and drink when symptoms strike.
Try an Epsom salts bath. Add a cup of Epsom salt (magnesium sulfate) to a tub of warm water and soak your body for at least 15 minutes, to relax the leg muscles, before going to bed in the evenings.
Don't cross your legs. If you are prone to varicose veins, don't sit with your legs crossed. Keep your feet flat on the floor when sitting, or cross your ankles.
Avoid lying down for long stretches. Binge-watching TV or movies for hours before bedtime can exacerbate symptoms. If you are prone to wake up at night with leg discomfort, lie down only when ready to go to sleep.
Exercise – Good circulation and exercise is vital to the health of your legs. Avoid sitting or standing for prolonged periods of time. Take a break: walk, jump on a rebounder, or do leg and calf stretches during the day to improve blood flow, relieve pressure and prevent varicose veins.
Castor oil massage – While sitting, gently massage warm castor oil into your skin. Then, elevate your legs above your heart and relax for 10 to 15 minutes.
Be sure to talk with your doctor before starting any treatment.
Do you have a home remedy for RLS that works for you? Share it with us in the comments below.

Deborah Tukua is a natural living, healthy lifestyle writer and author of 7 non-fiction books, including Naturally Sweet Blender Treats. She has been a writer for the Farmers' Almanac since 2004.
Keep Exploring